Welcome to the Oxford University Society of Luxembourg
The Society aims to promote social, recreational and cultural activities among members, and to further causes or projects in the interest of the University of Oxford.
AGM Monday 25th February
You need to pay your subscription to be able to vote!
See our Events page for details
---
Subscriptions for 2019 are due
Please pay €35,- to the Society's account (details below) — thank you!
Oxford University News
Latest edition of Oxford Today read
Oxford University to have 'most state school students for decades'
Almost 60% of offers made to pupils at state schools.
Read about this and the University's extensive school outreach work.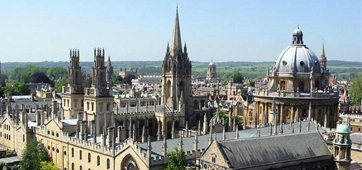 Oxford from the New College tower
Members
Have you changed your contact details?
Please inform the Membership Secretary so that our membership database is kept up-to-date and you continue to hear from us.
Please see the Membership page for important information about the subscription price and payment methods.
Viewing this web-site
This web-site is designed to display correctly in modern, secure web-browsers such as the latest versions of Firefox, IE, Safari and Opera.
If the pages don't display correctly, try updating to one of the suggested browsers.