Our first post-Covid event was a wine tasting at the Dominikaner Weingut in Kasel near Trier. 
Carmen v. Nell-Breuning, owner of the family´s winery and wine-maker in the 11thgeneration, gave us guided tour through the wine cellar, going from the fermentation vats, to the "Treasury" closet of old wines. Carmen explained us the history and reputation of the Mosel wines, and gave us an overview of the production from harvesting to bottling, for sparkling and non-sparkling wines.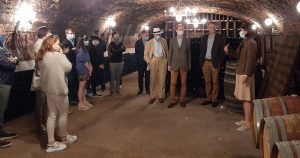 After visiting the cellar, we proceeded to the Weinzimmer, where we were treated on a "Sekt", named Ludovic, after Ludwig van Beethoven, whom the Breuning family looked after when he grew up in Bonn. In the Weinzimmer we admired the many story-telling paintings of famous and less famous members of the wine dynasty. 
After the bubbly apéritif we walked over to Pauliner Hof, the adjacent restaurant of the winery, where we enjoyed lunch with an accompanying wine tasting.
After an excellent meal, we had a stroll to the the vineyards, where we enjoyed  the view over the Ruwer Valley, and the village of Kasel.