Study at Oxford
This page provides you with basic information about how to apply to Oxford, and directs you to other sources of more detailed information.
For a valuable overview of how to apply to Oxford (and other universities, including Cambridge), you can download an updated guide, which was presented at the UK Universities Information Event last April.
You can access additional information on the topics featured below on our links page.
First degree — or further studies?
The information given here is for people who want to go to Oxford as an undergraduate, to do their first degree. Those who already have a university degree of some sort and would like to do further study at Oxford should look at the graduate section of the University web-site.
Information for teachers
Teachers who would like to help their pupils prepare for Oxford entrance should find the information below useful. More detailed information and support is available on the University web site. And of course you can contact our Committee for additional information.
Study Costs
Many people are concerned about the costs of studying at Oxford and other British universities, especially since the Brexit referendum. Since the situation is currently so uncertain, we would advise candidates to talk to CEDIES about what financial help they can get in Luxembourg and also to investigate sources of university funding.
How to prepare your Oxford application
Start in good time

Applications have to be sent in at the beginning of your last year in school. So you need to start thinking and preparing at least a year before that.
There is a simple video which explains the important stages of the process.
This page tells you about making an application. You also need to prepare yourself so that you become a good candidate. Look at our recommendations to find out what you can do to improve your chances.
Back to top

Choose your subject

There will be something you are really passionate about, that you really want to study, not just because it will get you a good job, but for the thing itself.
Back to top

Choose your college

You can make an open application: the University will assign you to a college where there is a place available in your subject. This is a perfectly valid form of application.
However, many people prefer to find out about the different colleges and make a choice. Basic information is available on the University website, and detailed information on the individual college sites. You will find some of these links here.
It can also be very helpful to visit an open day. Oxford University's open days in 2015 will be 1 – 2 July, and 18 September. Most colleges and many departments will be holding their open days at the same time. Further details are available on the University Admissions web-site Open Days page.
Back to top

Learn about the Application Forms for UK universities

Information about filling in the forms, writing your personal statement and organizing a reference from a teacher is on the UCAS website. There is also a section for teachers, and one for your parents to look at too. You will need to indicate the marks you got in your previous school year, both overall and for the individual subjects that are required for the course you want to study, as well as saying what school-leaving exam you will be taking.
Remember that UCAS applications for Oxford and Cambridge (as well as medical, dental and veterinary schools) have to be made by 15th October, much earlier than for other UK universities. You should start preparing before the summer holidays.
Back to top

Tests and copies of school work

You may well have to pass a test before you can be offered an interview. This will depend on the subject you have chosen. The requirements for different subjects are available on-line.
Your school should be able to act as a test centre; they will need to register for this, as early as possible. If not, there is an open test centre for many of the tests at the European School in Uccle (BE). There may be others by next year. Most tests are taken in November, except for the Law tests, held in September or October.
You will need to prepare for these tests — start as soon as your summer exams are over.
For some subjects you will be asked to send copies of recent school work. The information can be found on the faculty and department web-sites, and on the main University web-site.
You may also need to pass an English language test. Details of which tests are accepted and the mark you need are on the University Admissions web-site.
Back to top

Interviews

Interviews are held at the beginning of December. You will need to be in Oxford for a couple of days and will stay in a college. Results usually arrive by the end of the year. An offer of a place will be conditional on your getting the required marks in your school leaving examination.
Back to top
Prepare yourself
Useful links for applicants
Back to top
Oxford University News
Latest edition of Oxford Today read
Oxford University to have 'most state school students for decades'
Almost 60% of offers made to pupils at state schools.
Read about this and the University's extensive school outreach work.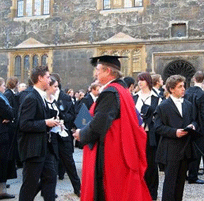 Members
Have you changed your contact details?
Please inform the Membership Secretary so that our membership database is kept up-to-date and you continue to hear from us.
Please see the Membership page for important information about the 2015 subscription and payment methods.
Viewing this web-site
This web-site is designed to display correctly in modern, secure web-browsers such as the latest versions of Firefox, IE, Safari and Opera.
If the pages don't display correctly, try updating to one of the suggested browsers.