Prepare Yourself
This page tells you how to prepare yourself to become a better candidate for a place at Oxford
You can find information about the admissions procedure on our "Study at Oxford" page. You can also access information on this and other topics on our links page.
First degree — or further studies?
The information given here is for people who want to go to Oxford as an undergraduate, to do their first degree. Those who already have a university degree of some sort and would like to do further study at Oxford should look at the graduate section of the University web-site.
Information for teachers
Teachers who would like to help their pupils pepare for Oxford entrance should find the information below useful. More detailed information and support is available on the
University web site
. And of course you can contact
our Committee
for additional information.
Study Costs
Many people are concerned about the costs of studying at Oxford and other British universities, especially since the Brexit referendum. Since the situation is currently so uncertain, we would advise candidates to talk to CEDIES about what financial help they can get in Luxembourg and also to investigate sources of university funding.
What to do to become a better candidate
Study hard

Work to make sure that the actual marks you get in your school-leaving exam are above the minimum required for Oxford — see the table on the Oxford Admissions web-site to find out what marks you need.
Remember that you may need higher marks in the subject(s) you want to study than what is needed for your overall mark.
Back to top

Practise your English

Use English outside your school lessons — read, write, watch TV and films and speak it as much as you can.
You will be required to get high marks in one of the approved English tests if you are from a non-English-speaking country. Look at the sample tests on the web — see our links page for details of where to find them. You can also get information there about specific study materials for the tests.
Back to top

Pursue your passion

Actively pursue the subject(s) that you are passionate about — read widely (especially in English), discuss with other enthusiasts, participate in practical activities, such as politics, conservation, science competitions, travel, drama, etc., as much as you can. Join an appropriate society or association — an international group that communicates in English would be particularly good.
We have prepared a list of books on scientific topics in English — not course books, but books for the general reader, including biographies, accounts of scientific discoveries , etc. Reading books like these will be helpful for people who study science at school in other languages, but anyone who is interested in science and the social and economic developments associated with it should find things to interest them on this list. Reading books like these will help you to extend your knowledge and interests beyond the material in your school curriculum.

Learn about the formal requirements for entrance

Study the UCAS, Oxford and other web sites, as well as our page about admissions, for information about the admissions process, forms, references and so on — note the limiting dates and extra tests that are necessary for many subjects, especially (but not only) Law or Medicine.
Back to top

Start in good time

Prepare your application dossier in good time — you will need written input from your teachers and school. The limiting date for entrance in 2017 is 15 October 2016 — see the Oxford University Admissions web-site for further information.
Back to top

Prepare for the tests

Prepare for additional subject tests in good time — you need to start as soon as your school exams are over, before the summer holidays! Don't wait until you send in your application after the holidays, you won't have enough time to practise.
You can find sources of information about these tests on our links page. The test web-sites have sample tests and also details of special study materials to help you prepare.
Remember that these tests aren't like those you're used to in your school exams — you really need to prepare yourself.
Back to top

Prepare yourself for the interview

There is information about the Oxford interview on a number of web-sites — see our links page for details.
You can also download our guide to interview preparation.
You can ask ask OUSL for a practice interview: please mail our Chairman Andrew Hallan (chair "at" oxford "dot" lu; replace the "quoted" items with the appropriate symbols).
As there is usually a large number of requests we are now asking prospective candidates to contact us by 15th October 2016, which is also the closing date for UCAS applications. Please send a copy of your UCAS application with your request; this will help us to find suitable interviewers. You can save your application as a .pdf, the UCAS web site explains how. Please note that we will do our best to set up practice interviews for everyone who asks, but we cannot guarantee you a practice — we may be unable to find anyone who can do it during the very short period between 15th October and the start of the real interviews at the beginning of December.
You can read a report on our 2012 practice interviews.
Back to top
Prepare your application
Useful links for applicants
Back to top
Oxford University News
Latest edition of Oxford Today read
Oxford University to have 'most state school students for decades'
Almost 60% of offers made to pupils at state schools.
Read about this and the University's extensive school outreach work.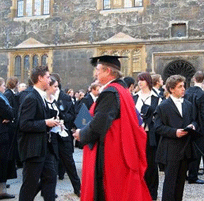 Members
Have you changed your contact details?
Please inform the Membership Secretary so that our membership database is kept up-to-date and you continue to hear from us.
Please see the Membership page for important information about the 2015 subscription and payment methods.
Viewing this web-site
This web-site is designed to display correctly in modern, secure web-browsers such as the latest versions of Firefox, IE, Safari and Opera.
If the pages don't display correctly, try updating to one of the suggested browsers.