Useful Links
We have collected some useful links that will help you find the information you need to apply to Oxford.
You can find information about the admissions procedure on our "Study at Oxford" page. You can learn how to prepare yourself to be a better candidates on our preparation page.
First degree — or further studies?
The information given here is for people who want to go to Oxford as an undergraduate, to do their first degree. Those who already have a university degree of some sort and would like to do further study at Oxford should look at the graduate section of the University web-site.
Information for teachers
Teachers who would like to help their pupils pepare for Oxford entrance should find the information below useful. More detailed information and support is available on the
University web site
. And of course you can contact
our Committee
for additional information.
OFFICIAL INFORMATION FOR UK UNIVERSITIES

INFORMATION FROM CEDIES ABOUT STUDYING IN THE UK AND IRELAND

INFORMATION FROM OUSL ABOUT STUDY COSTS AND STUDENT FINANCE

OFFICIAL INFORMATION FROM OXFORD UNIVERSITY

EXAMPLES OF OFFICIAL INFORMATION FROM THE OXFORD COLLEGES

EXAMPLES OF INFORMATION FROM OXFORD STUDENTS

INFORMATION ABOUT THE TESTS

ENGLISH LANGUAGE TESTS

INFORMATION ABOUT INTERVIEWS
Oxford University News
Latest edition of Oxford Today read
Oxford University to have 'most state school students for decades'
Almost 60% of offers made to pupils at state schools.
Read about this and the University's extensive school outreach work.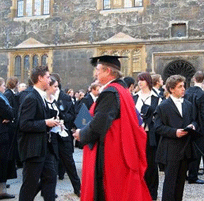 Members
Have you changed your contact details?
Please inform the Membership Secretary so that our membership database is kept up-to-date and you continue to hear from us.
Please see the Membership page for important information about the 2015 subscription and payment methods.
Viewing this web-site
This web-site is designed to display correctly in modern, secure web-browsers such as the latest versions of Firefox, IE, Safari and Opera.
If the pages don't display correctly, try updating to one of the suggested browsers.